Sparc64 is understandably not listed as a supported Pale Moon platform. However after applying some patches I got it building and running reasonably well.
Starting from the source for version 28.8.3 and following the Linux build instructions resulted in build errors. These are no fault of Pale Moon but are caused by incorrect compiler definitions in the original mozilla code.
Applying the patches from
bug #1275204
fixes them. The patches cannot be applied directly but manually inserting the improved compiler definitions works.
Initially the executable segfaults
with a problem already described on the forums (big endian related)
. Applying the fix in that post works. Adding "ac_add_options --with-system-icu" to the build config also works as an alternative.
I don't know if this is something Pale Moon is interested in, but considering that the patches needed are only compiler definitions which don't impact anything else it seems like something worth doing.
If this is something the devs would accept as a PR then I'd be happy to be make the request. Solaris SPARC support is probably not much more difficult to get working,
it looks like the hard work has already been done
.
Screenshot: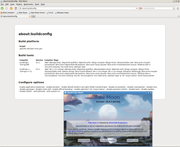 This build was done on Debian unstable Sparc64. One of the few Linux distros to have any Sparc support left. The debian repo doesn't include any working browsers (unless you count Dillo and elinks etc.), although it does seem like Debian developers did had Firefox working in the past (but no longer in repo).
It's worth noting that it is impossible to compile modern Firefox on Sparc at all due to a dependency on Nodejs which doesn't support Sparc. Considering the age of desktop Sparc systems, Pale Moon is likely to run much better than Firefox (if it could even be built).
Even a very limited degree of unofficial support (e.g. last known to build at version X) would be useful for people who use sparc64 and need a modern browser for light tasks.
The only minor problem I've noticed is that CPU usage never seems to be ramp up even when loading an intensive page. The T5240 SPARC server I'm using uses 2x1.4GHz UltraSPARC T2 Plus chips with a total of 16 cores and 128 threads. So only using a few threads isn't ideal as each is very slow, although I don't think this is related to Pale Moon, more of an architectural issue (these CPUs were intended for massively parallel tasks). It only has 32GB of RAM so when compiling it actually had to result it to ~50 threads or it would run out of memory. Even then it take under an hour to compile Pale Moon.